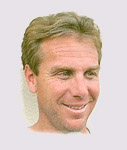 Peter Ambrose
Owner & Director of Boulder Indoor Soccer
Coach Peter Ambrose is the founder of Boulder Indoor Soccer. He is the Executive Director of the Boulder County Soccer Club. He is the former head coach of the Colorado Rapids U23 Soccer Team, the 2005 National Champion University of Colorado Men's Soccer Team, and the Oskar Blues FC PASL-Premier indoor team in Longmont. Coach Ambrose has coached and trained over 100 players who have gone on to play at the professional level.
Coach Ambrose is also the Founder and Director of SoccerTykes at Boulder Indoor Soccer, where he is better known as "Coach Peanut Butter".
Derek Winton
Operations Manager & Technical Director of Boulder Indoor Soccer
Coach Derek was born and raised playing soccer here in Boulder. In addition to playing soccer, Derek was an amazing runner, earning All-Americans honors in high school. He attended the University of Colorado on a Track & Field scholarship. He retains USSF coaching licenses.
Coaches and Trainers
Our coaches and trainers will be qualified and experienced in youth soccer. There are no volunteer coaches in our program. All of our of coaching staff have a USSF coaching license.